Master of Business Administration
Master of Business Administration
Duration
18 - 24 months
12 subjects
(Weekends only)
Classes commence
September (Autumn)
January (Winter)
April (Spring)
Fees*
AED 9,597.26 / USD 2,615 per subject
*VAT 5% inclusive
In recent years, career opportunities for MBA candidates have witnessed a transition. According to career experts, MBA jobs are all set to boom in the coming years, with lack of skills and uncertainty in the business environment. Business models have changed drastically for most companies. These kinds of dynamics make a demand for MBA graduates stronger.
Our Master of Business Administration degree in dubai is designed for experienced professionals interested in developing their strategic thinking and ability to lead businesses in a responsible and impactful manner. The knowledge and skills gained on an MBA are transferable across a wide range of sectors, including public and private sector, in manufacturing, in financial services, in healthcare, in real estate, in media and in retail. Given the challenges of leading businesses in global contexts, graduates are expected to demonstrate not only the knowledge and skills relevant to individual areas of expertise, but skills that demonstrate holistic thinking, as evidenced by an ability to integrate and apply knowledge to relevant business contexts. 
In line with UOWD commitment to responsible and sustainable leadership, the learning activities within our MBA program include relevant and current case studies that compare theory with examples of leading-edge organizational practices, guest lectures delivered by industry professionals, peer learning and critical reflection, followed by undertaking assessments that focus on using and applying knowledge and skills in real-life settings. The collective learning experience and authentic assessments enable students to attain knowledge and skills to international standards. 
The subject offering is aligned with UOW Sydney Business School, so that students across campuses can collaborate in their learning and gain the global experience. This provides the students the global experience of working across time zones and cultures, like they would experience working in a multinational company.
To make an application for your chosen program, complete the online application form and submit it along with all your supporting documentation (see below) prior to the application deadline.
Late applications may be accepted subject to the availability of places but applicants are encouraged to apply as early as possible.
The following records are required to process your application. Please ensure that all these documents accompany your UOWD application for admission form submittal:
The original transcripts of your bachelor's degree results
A Certificate of Completion
(If the above documents are not in English, a certified English translation is required)
Proof of your english language proficiency
(Note: Results from IELTS & TOEFL tests must be sent to the University directly from the IELTS or TOEFL testing centres quoting the UOWD institution code IELTS: AE109 / TOEFL: 7907)
Your current resume or CV
Letter(s) from employer(s) showing 2 years of work experience (for MBA applicants only)
A copy of your UAE ID card (if applying from within the UAE)
A copy of your passport (and Residence Visa, if resident in the UAE).
Additionally, if you are seeking advance standing in your chosen program:
Certified copies of official academic transcripts showing all courses studied and grades obtained, syllabus details (including information on course content) of the courses you successfully completed and an explanation of the grading system.
Applications are required to obtain attestation / equivalency of their bachelor's degree from the UAE Ministry of Education. The attestation / equivalency process is dependent upon whether you completed your bachelor's degree within the UAE or outside the UAE.
If the bachelor's degree was completed outside UAE, you must have your bachelor's degree and transcripts/mark sheets certified by:
The issuing University and/or recognised authority for tertiary education in the host country in which you completed your education
The Ministry of Foreign Affairs in the host country
The UAE Embassy in that host country OR the Embassy of the host country in UAE must attest the authenticity of the documents and attestations.
Additionally, the UAE Ministry of Education must issue an Equivalency Certificate. Applicants must have a valid UAE residency visa when applying for an Equivalency Certificate. In special cases where complying with conditions (2) and (3) are not feasible, the certificates may be verified against originals by Embassies in the UAE and the UAE Ministry of Foreign Affairs.
If you are unable to secure the Equivalency Certificate(s) as outlined above will be asked to sign a "Consent to Provide Documents" form agreeing to secure the equivalency. You will be permitted to commence your studies at UOWD, but will be given a maximum of one semester to obtain the equivalency certificate(s). UOWD reserves the right to take appropriate action against any applicant who cannot secure the appropriate documentation in this time, which may result in the termination of the student's enrolment at UOWD.
For more information or assistance on attesting documents from outside UAE, click here.
Program Structure
Our Master of Business Administration offers a unique approach to holistic business areas, with an in-depth and rigorous learning experience. Alongside a foundation in the specialized knowledge and skills related to holistic business areas, you will also have opportunities to deeply understand the real challenges facing managers and organizations in operating in competitive environments and specialize and apply what you've learned in practice. The program is organized around three key themes.
This subject informs managers on the role accounting plays in organisations and its contribution in achieving stated objectives. It exposes students to financial reports (legislated and internal) and guides them through the process of undertaking financial statement analysis to better support managerial decision-making. Students are introduced to the role and construction of internal budgets, performance reporting and internal controls which all contribute to effective and efficient operations within an organisation. Students develop their skills in communicating financial data to general and specific audiences. Ethics, governance and risk management and effective use of accounting data for managerial decision-making are emphasised
The subject critically evaluates theory and practice in the field of marketing management, provides practical concepts and tools in the areas within marketing such as marketing planning, marketing research, customer and competitive analysis and marketing strategy in a multichannel environment, and evaluates the effectiveness of marketing practices across varied contexts. It covers the link between marketing budget and return on investment by considering how to strategically invest marketing dollars. The subject challenges students to evaluate social responsibility and other perspectives when making holistic marketing decisions.
This subject explores the trends and debates in employee and talent management strategies. Importantly, the subject critically evaluates the role and limitations of various talent management theories, frameworks and approaches. It identifies and critically evaluates key challenges to developing and maintaining effective talent management strategies in order to promote responsible and sustainable organisations. Finally, the subject provides an understanding of how technological developments influence effective talent management practices.
This subject gives students the tools to understand fundamental changes in how businesses are currently conducted. It explores business transformation with reference to operating faster, better and cheaper in environments where disruption within industries provides new and emerging opportunities the organisational equivalent of evolution or revolution. Students mental models are challenged using systems-thinking skills to create tomorrows businesses and to think holistically in order to recognise the interdependencies in decisions and opportunities. Finally, students explore the capabilities and linkages between new technologies and markets.
This subject provides a solid foundation in formulating and deploying commercialisation strategies for innovation projects that impact markets, economies and communities. Students experiment with contemporary approaches to innovation and collaboration (e.g. business model canvas) in start-ups and existing organisations. Students develop skills in evaluating ambitious ideas and opportunities by examining the critical innovation and entrepreneurial challenges to create, communicate and capture value. The subject clarifies the interaction among innovation phases, patterns of market changes, competitive strategies, dynamic capabilities and justification related to innovation. Using case study methods, the subject provides experiential learning opportunities to link key conceptual frameworks to practical settings in various industries.
This subject provides students with an understanding of the decisions made by firms and other businesses when raising capital, making investments and rewarding their investors and other stakeholders. Students develop their abilities to model financial decisions and strategies. They learn the main ideas of financial logic and how to apply them practically and ethically. This understanding helps students to better articulate business strategies and the results of financial modeling, and limitations of rational finance models and how behavioural or ethical considerations often override narrow financial objectives and feedback from stakeholders.
Integration and Application
This subject examines the lifecycle of strategic decision-making, allowing students to explore and analyse alternative strategic options from a range of stakeholder perspectives. Use of evidence such as data from Bloomberg on environmental, social and governance performance of companies is incorporated to allow students to acquire the required skills to make informed decisions. Current strategic decision-making practices from around the global are scrutinized to ascertain what is, and what is not, sustainable strategy.
This subject enables students to integrate learning from across the course, and apply the skills and insights learned to a real-world, contemporary workplace issue or opportunity facing an organisation. It acknowledges that to confidently manage in complex business environments, managers need to investigate issues and opportunities from multiple perspectives, execute projects by drawing on relevant research principles and methods, make appropriate business decisions, and communicate effectively to relevant target audiences. Thus students conduct applied business research and make a series of informed recommendations for addressing the issue or opportunity, delivering a written report and presentation.
In this subject, students develop their personal effectiveness as a responsible leader. Reflecting on self-assessments, experiential leadership development exercises and feedback, they heighten their self-awareness, enhance their resilience and build on their strengths. They develop a repertoire of skills including coaching and mentoring, communication and negotiation which enables them to responsibly lead others in a rapidly changing world. Students are required to articulate their own vision of leadership and what it means to be a responsible leader in practice.
In addition, you will choose any two 900-level elective subjects.
*You must complete Business Research Methods, an online zero-credit course, as a prerequisite for Strategic Business Project
Program Outcomes
Prestigious and Accredited Degree: Upon completion of the program, all students will get a Master's degree from University of Wollongong Australia, a university in the top 1% of the world universities, accord to QS World University rankings. This degree is fully accredited in the UAE by Commission for Academic Accreditation (CAA) and Knowledge and Human Development Authority (KHDA).
Skills You'll Learn to Support Your Career Goals: The completion of the program will equip the students with practical, hands-on and job ready skills like Communication Skills, Versatility and Flexibility, Strategic Thinking, Digital Savviness, Entrepreneurial Spirit, Leadership Skills, Resilience, Problem-Solving, Decision Making, Interpersonal Skills and Networking.
Doctoral Study Opportunities: Should students wish to pursue further research after completing this Master's degree, UOW Dubai offers a PhD program under the Faculty of Business.
Global Career Opportunities: Chief Executive Officers, Chief Financial Officer, Chief Technology Officer, Business Development Manager, Business Operations Manager, Business Transformation Manager, Business Intelligence Analysts, Business Consultant, Business Analysts, Project Manager, Human Resources Director, Chief Marketing Officer, Health Services Manager, Entrepreneurs, Operations Research Analysts.
With the global nature of this degree, you will be equipped to work in any industry in private, semi private or government sector in any region of the world.
Accreditation and Recognition
All degrees at the University of Wollongong in Dubai are accredited by the Commission for Academic Accreditation (CAA) of the UAE Ministry of Education and are licensed by the Knowledge and Human Development Authority (KHDA). In addition, the degree is quality assured by UOW, which is registered with the Tertiary Education Quality and Standards Agency (TEQSA), the national regulator of the higher education sector in Australia.
Also, all business degrees of the University of Wollongong are accredited by The Association to Advance Collegiate Schools of Business (AACSB).
Students will be issued a UOW Australia degree upon graduation.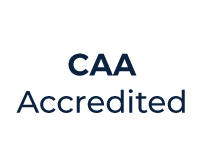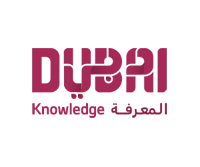 Professional Accreditation
Association to Advance Collegiate Schools of Business (AACSB)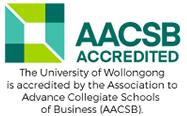 The Association to Advance Collegiate Schools of Business (AACSB) provides an international seal of approval for business programs that ensures the educational needs of students are met through high quality, continuous improvement and excellence in education. This globally recognised accreditation has been awarded to only the top five percent of the world's business schools.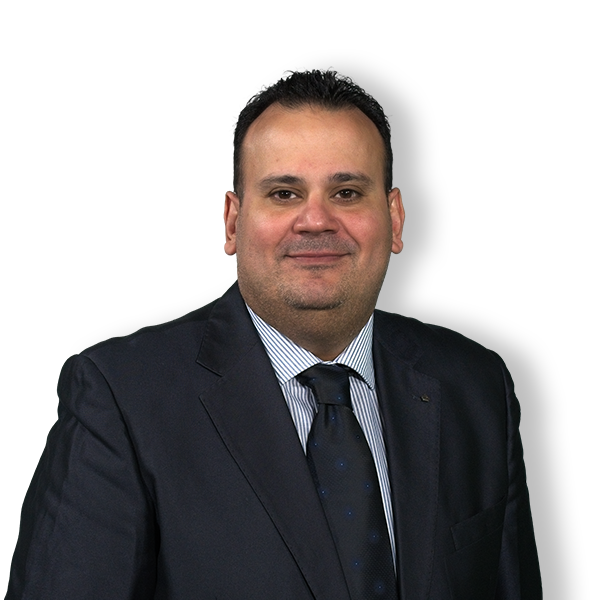 Dr Osama Al-Hares
Associate Professor
(Director Postgraduate)
Dr Osama Al Hares's research interests lie in financial performance, corporate valuation and value relevance, corporate governance, earnings management, accounting for goodwill and asset impairments, emerging financial markets, and accounting disclosure practices and analysis. He has extensive consultancy and training experience in banking, investment, services, and small businesses sectors.
Read More
Faculty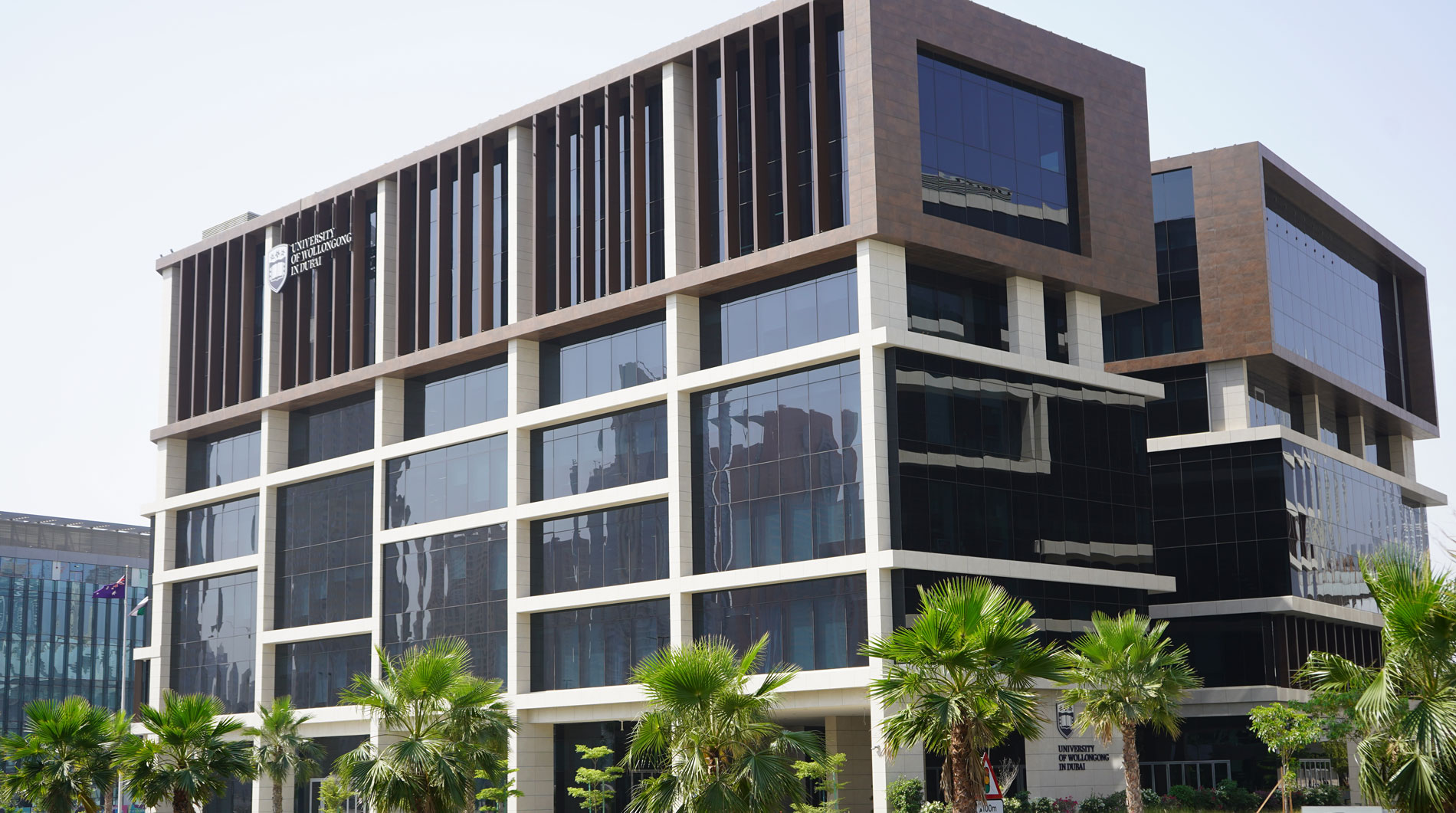 Open Day
Remember to attend our next Open Day on Saturday, 17 June 2023.
Join our experts to learn more about our degrees, and how you can enrol at UOWD in our
Autumn intake which starts on 18 September 2023.